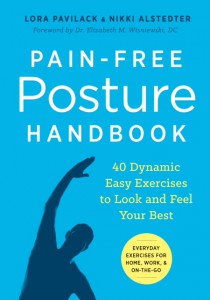 Have you ever wanted to take your Pilates instructor home with you so you could continue to sit right, move right, and feel great all day long? Now you can! My lovely mentors and Pilates Studio City owners, Lora Pavilack and Nikki Alstedter, have written a book designed to do just that: Pain-Free Posture Handbook.
Proper posture is essential to good health, proper organ function, and alleviating back pain. As they point out in the book, it is never too late to fix your posture. The Pain-Free Posture Handbook keeps you moving properly throughout your day with 40 exercises for home, work, and on the go!
As my Master Trainers, Lora and Nikki have taught me so much about posture and movement, and therefore have contributed immeasurably to my teaching and the benefits my clients have received. I am so excited for their wisdom and experience to be
available 24/7 to my clients (and others!) in this handy guidebook! It's available now to purchase on Amazon (at a great presale price) and will be released on May 17th. Click here to purchase.
Lora and Nikki will be holding a Free Dynamic Posture Workshop on Thursday, May 12, at their book-signing event at Pilates Studio City. The event starts at 5:30pm and the workshop is from 6:45pm to 7:30pm. Click here for more details!
What's Your Posture Story?
Have you experienced improvements to your posture and health from incorporating Pilates into your health repertoire? Please share in the comments below. #yourposturestory