Redcord is an exercise training technique developed in Norway in 1991. It focuses on gaining functional strength and ideal muscular body alignment by working the body from the "inside out." Redcord works on the neuromuscular level to change ineffective movement habits and to establish stronger and more efficient muscular patterns. It is ideal for all fitness levels—from the professional athlete to the soon-to-be-fit!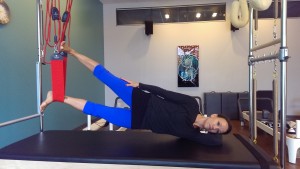 How is this done?
Utilizing a system of ropes and slings hanging from above, Redcord uses the principle of controlled instability to work the body in a challenging, but supported, pain-free environment.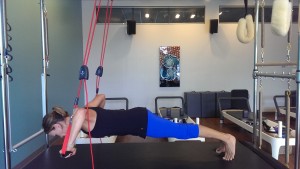 What are the benefits of Redcord?
Strengthens and tones entire body.
Reduces back strain by building strength in the abdominals and other muscle groups.
Lowers risk of injury by eliminating tension in overworked muscles.
Increases range of motion.
Helps re-activate abdominal muscles of women who are post-partum.
Provides an effective workout in a supportive environment for clients who are recovering from injuries.
Who can benefit from Redcord?
People in pain due to muscular imbalances.
The super-fit: athletes, dancers, etc. who are looking to enhance their performance training.
Pre-and-post-natal women.
Anyone wanting a unique, fun, and challenging workout!
Points of interest
Extensive clinical studies have proven that Redcord delivers results.
It is widely used in physical therapy offices and fitness facilities throughout Europe.
The Redcord equipment was invented by Kåre Mosberg, a carpenter and former gymnast.
The first Redcord clinic in the US opened in Santa Barbara, CA. in 2008.