Empower your Body, Mind and Life at Pilates Studio City and
 Live the Life you Love!
Living the life that you love is not only possible it is what you were born to do.  "Easier said than done" says the loud voice in your head.  Playing super human and being there for everyone else in your life is great, but what about you?  It's this simple, if you invest in yourself first, you will unleash the power your body inherently holds.  Let us help you MOVE in that direction!
"Happiness is not the belief that we don't need to change, it's the realization that we can."
– Shawn Achor
We believe in the power of YOU!  Pilates Studio City is building a community of people who empower themselves first so they can actualize their dreams and be present to those they love most.  Pilates Studio City is YOUR studio, designed with your personal care in mind.  We will work together setting goals and attaining the results that you desire in a professional and caring environment, creating a lifestyle that is supportive to your mind, body and overall well-being.
Guided by your knowledgeable and friendly teachers, you will learn how to breathe and engage your body in new ways that strengthen you from the inside out. Your body will become toned and supple.  A strong and flexible body equals longevity and ease when doing all that you love in life!  We want YOU to live the life that you love feeling strong, flexible, pain free and balanced.  We have what you need….what are you waiting for?
Pilates Studio City is dedicated to providing a dynamic movement experience in a creative environment.
Pilates Studio City is an inviting environment that provides Private and Semi-Private Pilates sessions as well as Private GYROTONIC® and Redcord® sessions. The luxury of private rooms and dedicated teachers enhance each session with focused learning, attention and flow. We also provide opportunities to work with our professional instructors online from anywhere in the world. We offer a variety of classes ranging from Pilates Mat to GYROKINESIS® to Integrated Stretch! All the classes offered are complementary movement practices to inspire the lifestyle of whole body health.
About the owners…
Nikki Alstedter, Co-Owner
Nikki first came to the practice of Pilates as a professional dancer and massage therapist in 1997. The Pilates principles of posture and dynamic alignment presented an arena of vast healing potential and transformation that guided her educational path and experience. In 2000 she became a Chiropractic assistant and apprenticed for four years, mastering an energetic healing system called Quantum Kinetics. This gentle hands-on approach utilizes the body's electrical and myofascial system in relation to structural stability and wellness. This experience gave her a unique understanding of the body's integral system of healing within a clinical setting. Nikki is dedicated to inspiring intelligent movement that integrates and awakens awareness to enhance the quality of LIFE.
Her credentials include:
Advances in Pilates Instructor Certification at Long Beach Dance Conditioning 1998
Pilates Sport Center – Master Teacher Trainer
Da Vinci BodyBoard – Master Teacher Trainer
Certified Blue belt trainer of the Nia Technique®
Level 1 & 2 Certified Instructor of GYROTONIC EXPANSION SYSTEM®
Level 1 Certified Instructor of GYROKINESIS®
Level 3 Certified Instructor of the Franklin Method
National Pilates Certified Teacher (NPCT)
Pilates Method Alliance Educational Member
Massage Therapist & Cranial Sacral Therapist
QRA Nutrition Practitioner
Preferred Trainer – Balanced Body
Studio Member – Pilates Method Alliance
CPR / First Aid Certified
Lora Pavilack, Co-Owner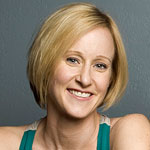 Lora began as a professional dancer in 1997 and she started practicing Pilates to strengthen herself during rigorous rehearsals and performance schedules. As a Radio City Rockette for nine years, she never missed a show and remained injury-free. Attributing this to training in the Pilates method, Lora pursued a certification in Pilates. She has appeared in numerous musicals including A Chorus Line, The Will Rogers Follies, La Cage aux Folles, Jesus Christ Superstar and Mack & Mabel. Lora has traveled the world dancing and performed at Disneyland and Universal Studios. She also enjoys choreographing. Lora's mission is to help others enhance their health and vitality so they can stand tall and enjoy life to the fullest.
Her credentials include:
B.S. in Dance Management from Oklahoma City University with an emphasis in dance performance
Pilates Instructor Certification – Center Studio & Core Conditioning
Pilates Sports Center – Master Teacher Trainer
Burn at the Barre – Master Teacher Trainer
Da Vinci BodyBoard – Master Teacher Trainer
Level 1 & 2 Certified Instructor of GYROTONIC EXPANSION SYSTEM®
Level 1 Certified Instructor of GYROKINESIS®
Level 3 Certified Instructor of the Franklin Method
National Pilates Certified Teacher (NPCT)
Pilates Method Alliance Educational Member
Preferred Trainer – Balanced Body
Studio Member – Pilates Method Alliance
CPR / First Aid Certified