Experience a new dimension of movement. Gyrotonic exercises will enhance your life whether you are a mom, athlete, practice Pilates, Yoga, Nia or if you are trying movement for the very first time. It is a playful system that feels great, will deepen your body awareness and expand your mind.
Some of the many benefits of Gyrotonic exercises include increased strength and flexibility, renewed energy and vitality and a general sense of calm and well being.
To begin your Gyrotonic experience at Pilates Studio City, we highly recommend an Initial Gyrotonic Session as the best way to introduce you to the amazing benefits of the Gyrotonic method.
In a Privates Gyrotonic session, you experience a 55-minute session tailored to your body's level and desired focus. A private allows a unique whole body experience of discovery and awareness, while strengthening, toning & increasing flexibility.
Juliu Horvath created Gyrotonic equipment and exercises after many years of intense study and self-exploration. This unique system incorporates movement principles from yoga, dance, gymnastics, swimming and tai chi.
Gyrotonic methodology allows users to stretch and strengthen muscles, while simultaneously stimulating and strengthening connective tissues in and around the joints of the body. These exercises are synchronized with corresponding breathing patterns, thus enhancing aerobic and cardiovascular stimulation and promoting neuro-muscular rejuvenation.
Gyrotonic exercises offer complete freedom of movement. Exercises are performed on the Professional Pulley Tower, and the system is fully adjustable and can meet the needs of many people with varying body types and levels of strength. The even and constant resistance in the handle unit and pulley tower, (through the triple reduction in the pulleys), completely eliminates the jarring that takes place at the beginning and end of exercises performed on conventional exercise equipment, when many injuries occur. The circular, spiraling and undulating movements that characterize the GYROTONIC EXPANSION SYSTEM® method help to increase the functional capacity of the spine, contributing to a spherical and three-dimensional awareness, resulting in increased equilibrium.
For more information about the GYROTONIC EXPANSION SYSTEM ® method please visit www.Gyrotonic.com
The GYROKINESIS® Method
After experiencing many personal struggles and chronic illnesses, Juliu Horvath spent many years in self-exploration and study. These experiences not only led him to true healing, but he was also inspired to create movement principles that offer the same benefits also found in yoga, dance, gymnastics, swimming and tai chi, but are not derived from these other exercise modalities. Some of the hallmarks of Gyrokinesis exercises are the fluidity of the movements and the ease with which one can perform them.
Gyrokinesis exercises allow one to work on the entire body through seven natural elements of spinal movement: forward, backward, left side, right side, left twist, right twist and circular, as well as all other joint articulation. This approach systematically and gently works the joints and muscles through rhythmic and undulating movements. These movements stimulate the body's internal organs while different corresponding breathing patterns are integrated along with the movements. Fluidity is the key. Postures are not held for long periods of time. Instead, postures are smoothly and harmoniously connected through the use of breath, making exercises appear and feel more like a dance and swimming than like traditional yoga.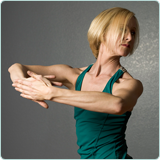 A typical Gyrokinesis class begins with participants practicing self-massage and simple breathing patterns, something Juliu Horvath has named, "Awakening of the Senses." Then the spine and pelvis are engaged through simple exercises: while seated on low stools, participants mobilize the spine through a series of arching, curling, bending, twisting and spiraling movements. These same movement patterns are expanded to release the hip, knee, hamstring, quadriceps and so on, in all possible directions: front, back, twisting and turning. The corresponding breathing patterns executed during every movement stimulate the nervous system, open up the energy pathways and oxygenate the blood. The more advanced classes offer endurance training to participants prepared for more strenuous activities. All Gyrokinesis classes, from beginner to advanced, encompass not only sitting but also lying and standing positions. Those who practice Gyrokinesis exercises tend to be more relaxed in their daily lives and can move with increased flexibility and ease.
View GYROKINESIS® class schedule
GYROTONIC®, GYROTONIC® & Logo, GYROTONIC EXPANSION SYSTEM® and GYROKINESIS® are registered trademarks of Gyrotonic Sales Corp and are used with their permission.