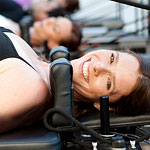 We are passionate about group classes at Pilates Studio City and that's why we offer our clients a variety of movement forms to enjoy!
Experience the invigorating benefits of challenging your core strength, flexibility and breath with Pilates Mat, Gyrokinesis, and Integrated Stretch. Spice up your cardio routine with a Zumba or Nia class or get the best of both worlds with a Total Body Burn, Core Lotus or Da Vinci BodyBoard class!
Venture deeper into the Pilates world by participating in our Pilates Group Reformer classes!
If you are new to Pilates Studio City please visit our Getting Started page and schedule your Initial Private Session today!