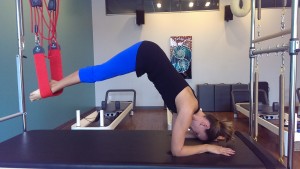 Redcord is a neuromuscular workout designed to activate dormant muscles while alleviating tension in overworked muscles. Utilizing controlled instability, Redcord focuses on gaining functional strength and ideal muscular body alignment. It uses neuromuscular re-conditioning to break ineffective movement habits and to establish stronger and more streamlined muscular patterns. Helping to change your body in a pain-free and supported enviornment, Redcord is especially great for women who are post-partum and for clients who are recovering from injuries. It is ideal for all fitness levels—from the professional athlete to the soon-to-be-fit!
Redcord Private Session
To begin training on the Redcord apparatus, we highly recommend an Initial Private Session as the best way to introduce you to the amazing benefits of Redcord. An Initial Private session allows you to experience the modality and to see and feel how it can enhance your fitness levels.
In a Private Redcord session, you will experience a 55-minute workout tailored to your body's ability and desired focus on the Redcord apparatus. Pilates Studio City's knowledgeable instructors will expertly evaluate your goals and give you the individualized attention you deserve to take your fitness, technique, and overall well-being to the next level.