Some time ago I took over teaching a morning mat class for an instructor who had moved away. It was a consistent yet sparsely attended class of different faces from week to week. I enjoy teaching classes of all sorts and sizes at all hours. But there was something missing from this class. It would not be long until I realized what the class was missing.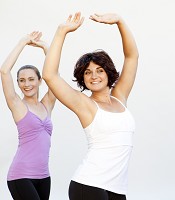 A few months after I began teaching the class, the studio offered a special rate to new clients for mat classes. A sudden influx of new, excited, and eager clients flooded our mat classes at all hours, often in pairs of best gal pals trying something new together. My morning mat class was no exception. In fact, it frequently maxed out! It was fun and amazing.
Some of these new, eager clients stopped attending after the special ended, but most could not stay away once they had a taste of Pilates. As class was beginning I would look out and see the clients paired off, segregated into teams of best friends whispering to each other and giggling. Soon though, they would begin turning to the woman on the other side and whisper and giggle, then to the woman across the room. The quiet class of paired-off strangers soon sounded more like a party—a party I often had to yell over to get class started!
Other than the occasionally strained vocal chords needed to get everyone's attention, I loved my new mat class and eagerly anticipated it every week. I would walk in and see individuals that did not know each other just a few months ago making plans for an upcoming fundraiser/walk, sharing tips on juicing, or discussing some new trend they shared with each other via Facebook. Yes, there was now a community gathering in our classroom on a weekly basis. In fact, it was so well supported, that we began offering another morning mat class on a different day of the week, and now the morning mat class community meets semiweekly!
I began teaching Pilates to help people change and improve the way their body functions, and in this manner my work has always been truly fulfilling. However, as I watched a community grow around my mat class, I learned of another benefit Pilates offers to my clients and another level of fulfillment my work provides.
Click below to sign up for a mat class today and join the community!