Six and half years ago I strolled into a remarkable space as a new, naïve Pilates instructor-in-training. Little
did I know that this unique space, our Porter Ranch studio, would serve as the ground in which I grew into myself as an instructor and the ground I would then turn around and cultivate.
Pictured to the right, I was eager, nervous, and taking everything in. Ever-ready to take leaps and bounds forward to immediately become an amazing instructor, I asked a respected instructor for a bit of advice. She told me that I would learn from every client I worked with. It was confusing for a new instructor to understand. Thinking I had to know everything right away to be a good instructor, how could I learn from my clients? Wouldn't that take time? Yes, it would be a journey. Few bits of advice have proven more truthful or helpful than that short sentence. I have truly been blessed to begin and nurture my teaching career at Porter Ranch, where such an amazing community of clients has taught me so much! I would not be the teacher I am today without every client that I have worked with. This space, designed from scratch by my mentors and master trainers, Lora Pavilack and Nikki Alstedter, brought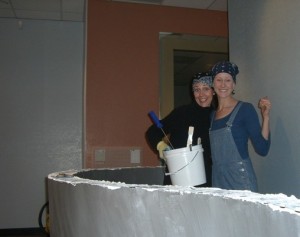 together the best of the best.
Over the years at Porter Ranch, I have passed on that same bit of valued advice along with other tips to many of my coworkers as they shaped their own craft and career. I experienced even further satisfaction in my work as I saw these newer generations of teachers grow in skill, confidence, and joy. Many of these stellar instructors have moved on from our studio to achieve their dreams, both within and beyond Pilates, and have found fulfillment in their own bodies and careers.
Last year I had the privilege of co-teaching the studio's first and last Teacher Training! I saw a class of dedicated and remarkable women grow into amazing instructors over 16 weeks within the space of our studio and community. I was and continue to be so proud of these awesome instructors.
Serving eight years as a pillar in a community of truly amazing people as this studio has done is no small feat. I'm so proud to have been a part of it. Each client who has come through our doors is more connected to his/her body, better informed, and better prepared to care for his/her body for life. Thus, as sad as I am to leave, I am confident in our clients' ability to find what their body needs, to not settle for anything less than pure quality in movement and health.
They say the only constant in life is change. This is true in our bodies as it is in our lives. I have dedicated my career to caring for and guiding our bodies through transitions. And now I trust that my clients and I will successfully navigate through another transition.
Thank you, Porter Ranch. It's been a remarkable journey and a whole lot of fun!
With love,
Jenny Kornfeld