How to find YOUR Perfect Pilates Studio (Plus Why Pilates Studio City is my favorite!)
By Jenny Kornfeld On September 18, 2012 · 20 Comments
While my readers at Pilates Studio City have clearly already found a stellar Pilates studio, no doubt at some point you will find yourself searching for a quality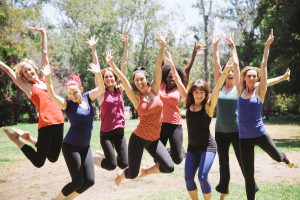 Pilates studio. Perhaps you are moving, traveling, or trying to help a long-distance friend find a quality studio. Here are a few tips to make your search successful.
Of course, the "ideal Pilates studio" will sound suspiciously similar to Pilates Studio City! As a proud staff member, I think Pilates Studio City is the best! It was the studio's dedication to its clients and high standards of quality instruction in Pilates, plus its customer service that drew me to the company first as a client and then as an instructor. These are characteristics that any respectable Pilates studio should reflect. So my bias is not unfounded!
A Growing and Changing Industry
Wherever I go, I am excited to see the plethora of Pilates studios that are popping up as this beneficial form of exercise becomes more and more popular. The term Pilates is not trademarked. Like the term yoga, it is generic, and therefore anyone may label him/herself an instructor of Pilates plus any business may label their product Pilates.
While this situation has allowed individuals and businesses to claim that they teach an exercise regimen that, in reality, has no basis in the philosophy and repertoire that Joseph Pilates created; it has also allowed Pilates to become increasingly available to more and more people.
Getting Started: Your Pilates Search Begins
With all this in mind, how can you find a good Pilates studio, one dedicated to your unique body and its unique needs? Don't fret, it is possible and not that difficult with just a little research! Your first step will most likely be an Internet search. Then, by calling and/or visiting a few of the studios that appeal to you, you will find the best fit for you and your body!
While looking up various studios, notice what they are selling. Are they focused on selling you a new body or health? While Pilates has aesthetic benefits, its primary purpose is to help the body move better and healthier. If a studio promises you something too good to be true, like a supermodel's body, it probably is. Remember, a healthy regimen includes Pilates plus good nutrition and cardio.
Quality Instruction Plus Varied Options Equals YOUR Ideal Pilates Studio
You will want to attend a Pilates studio that welcomes you and motivates you with a focus on meeting the individual needs of its clients. Does the studio seem student-oriented with small student-to-instructor ratios plus attentive instructors that correct form? Does the studio offer a variety of services and products, from private sessions to different classes with established levels? With unique starting points and goals, every client's Pilates path will be distinct, and a good studio will not only be able to accommodate any path but help you map out your personal path.
While looking online for a studio, remember to read reviews. These will help you weed out some less than stellar studios, plus the reviews will help you dial in on the quality studio that best fits your needs. Speaking of which, we would love to hear from our Pilates Studio City family on Yelp!
Qualified, Certified, and Well-Equipped
Confirm that the studio's instructors have received their certification from a respectable training program.
On this note, all the instructors at Pilates Studio City have completed a teacher training program approved by the Pilates Method Alliance (the PMA is a global nonprofit organization that works to maintain the quality and integrity of Pilates instruction) or an equally qualified program in the full repertoire of Pilates exercises and equipment, plus many have taken the extra step of becoming certified by the PMA itself.
Even if you are planning on only taking Pilates mat classes, be sure that the studio has Pilates equipment available—the Cadillac, reformer, Wunda Chair, plus the barrel—since the full repertoire of Pilates utilizes all these pieces of equipment.
Keep the above thoughts in mind, and I have no doubt that you will be able to find a quality Pilates studio that meets your specific health and movement needs as this unique and amazing form of movement becomes increasingly available.